We Connect People and Businesses
The Only Blockchain-Based Document & Contract Platform That Transforms Records, Documents & Contracts Into Fully Digital, Interoperable And Intelligent Assets.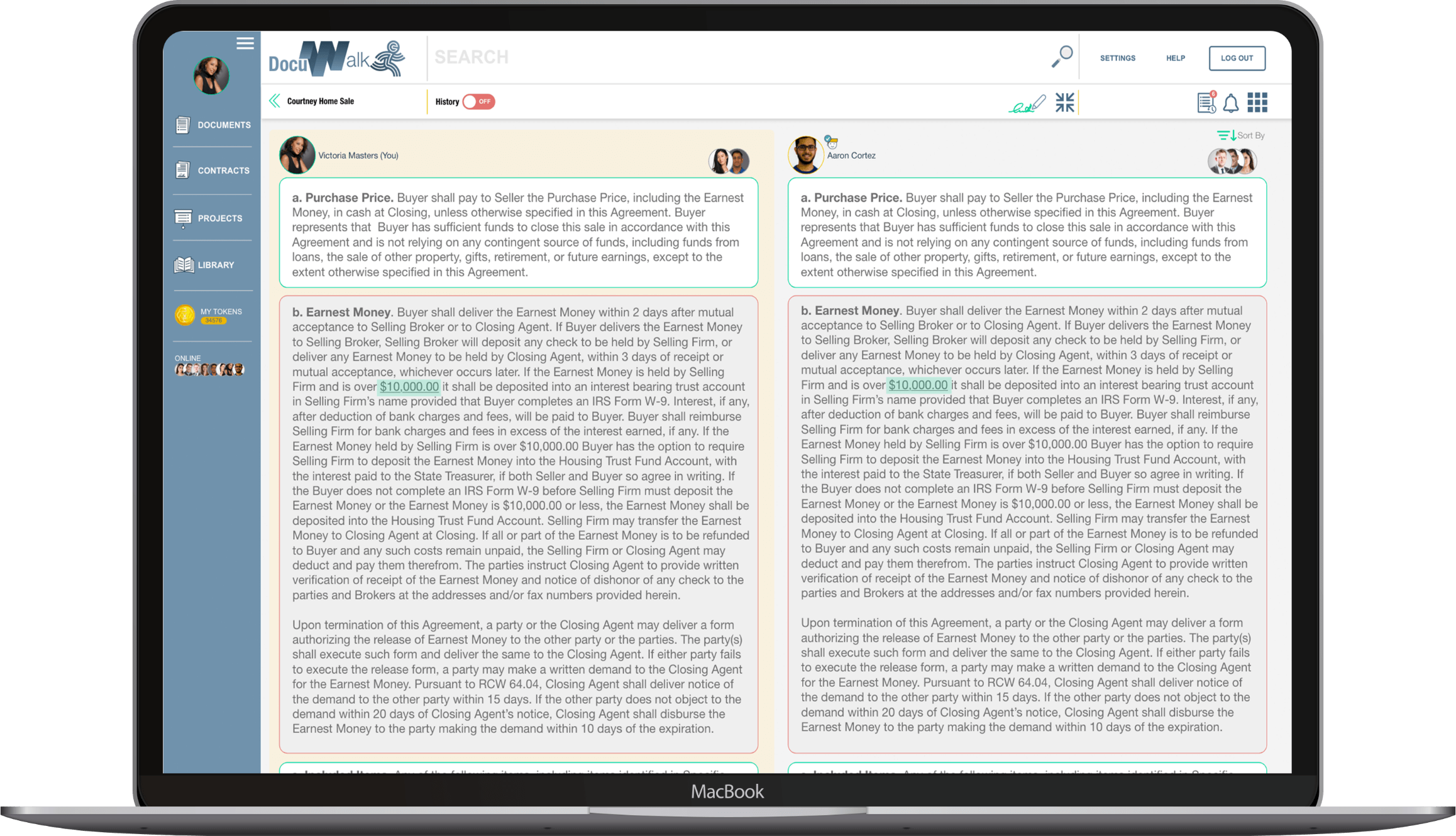 Level Up Your Contracts
It's Never Been Easier.
Let Us Help.
End-To-End Contract Management
A revolutionary paperless and frictionless solution to digitally integrate, interconnect, and interoperate agreements, contracts or transactions.

Contract intelligence, instantaneous contract negotiation, multi-level participant permission management and blockchain smart contract execution are just a few examples of differentiating features compared to other contract management software.
Virtual Negotiation Room
Negotiate terms and clauses in real time with greater ease and control for each contract with side-by-side track changes, and secure version control for auditability purposes.
Don't want to keep reading? Watch this video and learn why DocuWalk is the platform everyone is talking about.
It's your signature, you shouldn't have to pay to use it.
DocuWalk has the most advanced and secure signature available today. With a combination of verified identity and blockchain security you can sign contracts with the confidence of being there in person. All free for everyone.
Physical Signature
Blockchain Signature
Verified Identity
Guaranteed Matching Contracts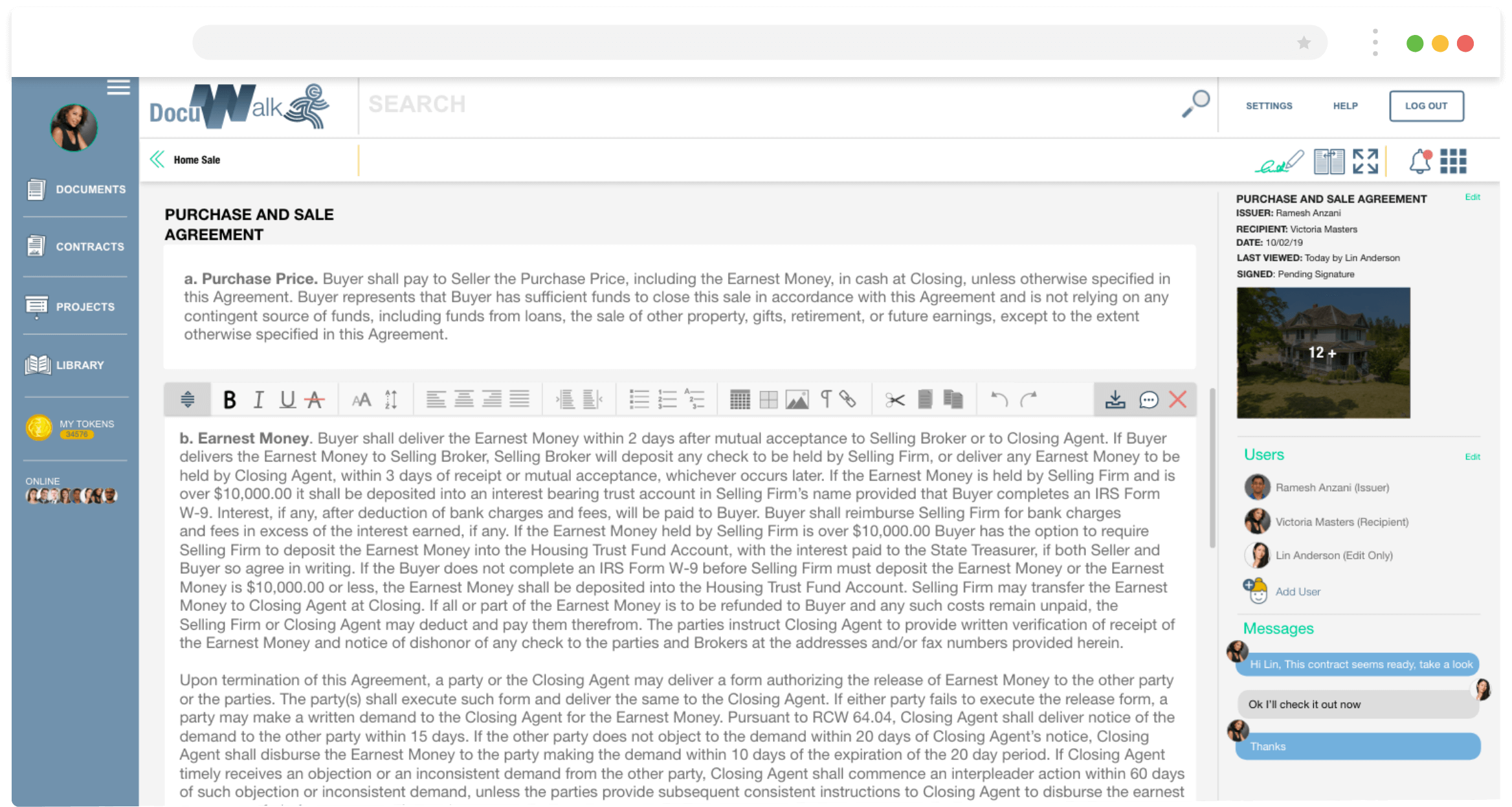 The Only Blockchain-Based Document & Contract Platform
Foundation of Privacy & Security
Blockchain-based security so you can rest assured all your information is safe.
Awards
2018 CODiE "Best Emerging Technology Award 2018 CIO "Company of the Year" award 2019 Gamechangers by RealTrends
Built for Business
Our blockchain-based security combined with DocuWalk's proprietary tokenization technology means your documents are secure from start to finish.
Organize your Files in a snap
Easy to use interface makes organizing your documents and contracts a snap. Find what you need ten minutes or ten years from now
Let DocuWalk Make Your Work Life Easier.
Here's How:
Real-time collaboration
Negotiate and discuss your projects using our side-by-side negotiation feature. No more crossing emails or mixed-up messages.
Customization
Customizable templates for greater quality control. All you or your staff have to do is fill in the editable fields you create. No more worrying whether all the important details were included each time you need to send out a new copy.
Fully Digitized
Contracts. Deeds. Wills. Documents of any type. With DocuWalk you can manage all your high-stakes paperwork in one secure blockchain-based platform.
Transportable
Make your contracts "talk" to each other. When you use DocuWalk you can compare and connect all your contracts to better maximize profits and increase your bottom line.
Greater Control
The eSignature and blockchain-based features are just the beginning. Users can have greater control over assigning permissions to others and a more robust editing history makes sure nothing gets lost.
Give paperwork a vacation
Ready to upgrade the way paperwork, contracts and documents are created, managed and stored? We're sure you'll come up with a way to spend that extra free time.